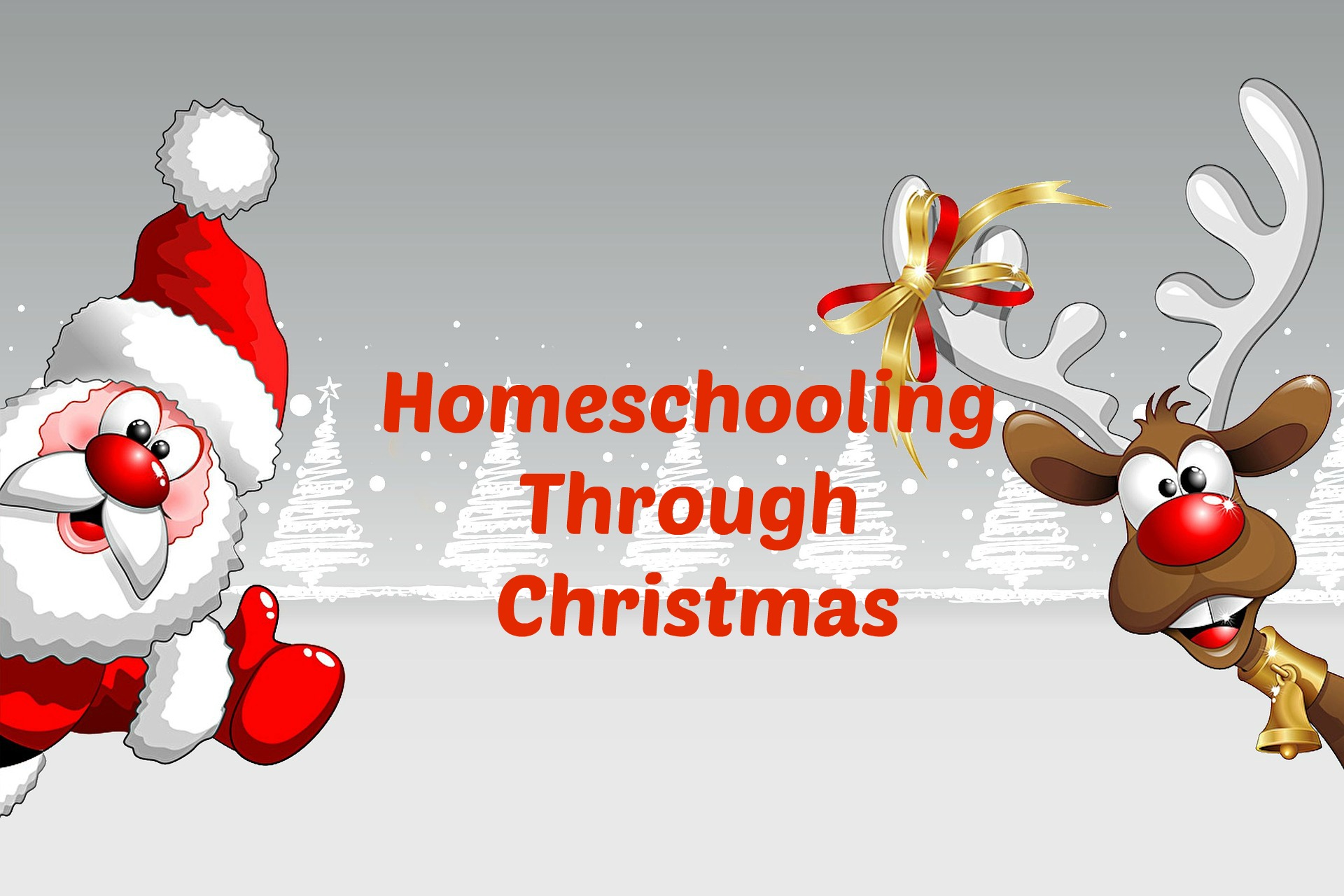 Christmas can feel like a lot of work, particularly for mothers. But, when you look back on all the Christmases in your life, you'll find you've created family traditions and lasting memories. Those memories, good and bad, are really what help you keep a family together over the long haul.-Caroline Kennedy
Christmas, the most wonderful, yet busy time of the year. Between the Christmas programs, parties, community activities, decorations, food preparation, guests and so on, how do you homeschool?
And the kids are soooooo… excited.
When my kids were homeschooling, they had a hard time concentrating once Thanksgiving was over through Christmas.   Homeschooling moms have a unique opportunity for making memories and setting traditions. They can choose to trudge through and teach the same old curriculum or they can choose to turn their homeschool into a Christmas Homeschool.
If you want to turn your homeschool into a Christmas homeschool, tie up all the loose ends the week after Thanksgiving.  Get to a good stopping place an then let the fun begin. Who said learning can't be fun, right!
First things first, establish the "reason for the season" whether through a study of advent, family devotions, or any way your family chooses, but observe Jesus in this season.
Christmas math can still be challenging to your students. Review concepts by playing math games and using Christmas printable worksheets.  Continue with flash cards (get the kids to make Christmas ones out of green and red paper).  Shopping Christmas ads using fake budgets or going shopping and buying gifts with your own money can be an eye opening activity.
Christmas language arts is reading Christmas themed books, writing letters to friends and family and maybe writing a letter to Santa. What about re-writing A Night Before Christmas, changing the characters to people in your family or the setting to your house? What about taking in a Christmas play at your local theater? Or having your kids write and perform an original Christmas show. If your child needs to work on a particular grammar area, Christmas printable worksheets are available on the internet.
Christmas social studies might be a study of Christmas around the World. Each child decides on a country of interest and does a project where they research the countries customs, location, foods and the like. You can make this as simple as having them write a paragraph or paper on the particular country or you can go all out and cook food from the country, make a Christmas craft that is specific to the country, make costumes, displays, etc. This is a great Language Arts/Social Studies tie-in where you kill two birds with one stone. Another interesting Social Studies activity is to research the origins of Christmas. What is the meaning of the Christmas tree, stockings, holly, and the like? A geography lesson about the North Pole is always fun.
 Christmas science can be a winter unit.  Where does snow come from, winter animals, and all things winter. How about Christmas science where you study how Christmas lights work, why Christmas trees are green and what do they do with recycled trees?  And if you are a baker, get the kids help you or better yet teach them to bake. They can learn about measurements and chemistry through baking. Why do you use yeast when baking bread? What would happen if you mixed up the flour and sugar measurements in cookies?
Christmas art!  That may be the best of all. If you or your kids are crafty, you can make gifts, decorations, and cards. Give your kids some art materials and let them create! Some of my favorite memories from childhood involves Christmas art projects we did in school.  If you are not crafty, they can color Christmas coloring sheets or draw pictures.
Community service takes on new meaning during the Christmas season. Have your kids clean out their closets and donate their old toys and gently used clothes. Choose a child in need from your community Angel Tree and buy a gift. Consider visiting a nursing home or homeless shelter to spread a little cheer. Make cookies or other gifts for your neighbors.
Travel is always great during the holiday season. Map out your travels and teach direction, how to read maps, and the like. Visiting family and friends, enjoying Christmas festivities in you community and in nearby towns and taking road trips to special events are always a great way to bond as a family. Take the time to do these things and leave the school books behind.
Your high school students may not have the luxury of completely dropping their regular curriculum. If they are caught up on their work, give them a couple of weeks off and even if they are behind, you can work on the subject(s) they are behind on and pick up where they left off  in January.
Remember why we celebrate,
Isaiah 9:6
"For to us a child is born, to us a son is given, and the government will be on his shoulders.  And He will be called, Wonderful Counselor, Mighty God, Everlasting Father, Prince of Peace."
What about your family?  How do you plan to Homeschool through Christmas?