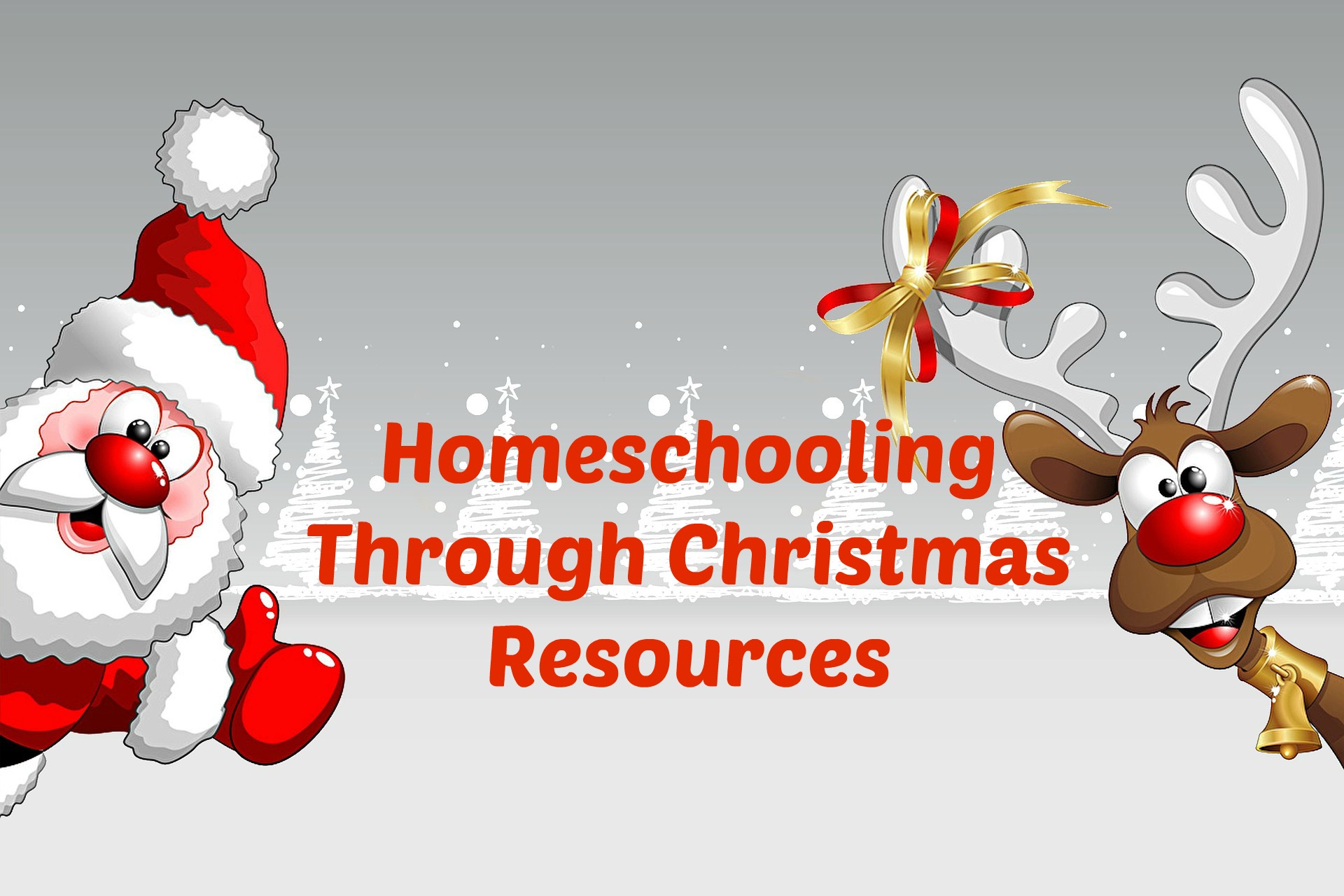 "Our hearts grow tender with childhood memories and love of kindred, and we are better throughout the year for having, in spirit, become a child again at Christmastime." ~Laura Ingals Wilder
This is part 2 of a two part series of Homeschooling Through Christmas.  To read about Christmas homeschool activity go to: http://twobirdsflewthecoop.com/homeschooling-through-christmas/
You've been thinking and praying about homeschooling through Christmas and like the idea of slowing down, but where do you begin?  Where do you find all those cute ideas and great resources?
Listed below are some great resources.  Most I've used with my children, a few I haven't.
Disclosure:  Some of the links below are Affiliate links and I will receive a small commission at no additional cost to you if you click on the link and order.
True Meaning of Christmas  I always say first things first.  Start with the true meaning of Christmas.  Listed below is a nativity that your little ones can play with and two great books that share the meaning of Christmas.  When my kids were little, I did not have the Fisher Price Nativity, ( I did have the Noah's Ark and still do for that matter Fisher-Price Little People Noah's Ark Playset
), we did have a nativity that my kids played with. Another fun activity is to have your kids act out the Christmas story.
Fisher-Price Little People Nativity

Christmas in the Manger

Who is Coming to Our House?
Language Arts Fun
Christmas Carol Mad Libs: Stocking Stuffer Mad Libs
  My kids loved mad libs.  I used them when I taught in public schools, in homeschool classes, and my daughter uses them now with her students.
Laugh-Out-Loud Christmas Jokes for Kids (Laugh-Out-Loud Jokes for Kids)
  Everyone needs a good joke!
Stars, Stockings, and Shepherds: Discover the Meaning of Christmas Symbols
  I used this book when I taught Kindergarten as well as when I homeschooled.  This is a great book for teaching the symbols of Christmas.  What is the origin of the Christmas tree?  How about poinsettia flowers?
Celebrate Christmas Around the World
  My daughter loved learning about Christmas around the world.  This is a concise unit study.
Christmas Science and Math  Great activities for teaching science and math
STEAM Kids Christmas: Science / Technology / Engineering / Art / Math Activity Countdown for Kids

STEAM: STEM Activities for Christmas
  (Kindle only)
Classic Read Alouds  These are classic books that would be a great addition to your family library.
Polar Express 30th anniversary edition
 A beautiful book
How the Grinch Stole Christmas! (Classic Seuss)
  I love all Dr. Seuss
The Night Before Christmas
  A classic that I read to my children every Christmas
The Twelve Days of Christmas
  How much fun is it to try and sing the song.  A great way to learn the words
Merry Christmas, Curious George (with stickers)
 My kids loved all things Curious George
The Berenstain Bears and the Joy of Giving
  There are several Berenstain Bear books you can choose.  I chose this one because I think Christmas is about giving.
Readers These books are great for the beginning reader.  A great way to continue reading practice through the holidays.
Santa's Moose (I Can Read Level 1)
 A fun book for your early reader
Can You See What I See? Christmas Read-and-Seek
  A level one reader that is similar to the I-spy books
Merry Christmas, Amelia Bedelia (I Can Read Level 2)
 Who doesn't love Amelia Bedelia and her crazy antics
Rudolph the Red-Nosed Reindeer (My Reader, Level 2) (My Readers)
  A classic Christmas story
It's Christmas! (I Can Read Level 3)
 12 silly Christmas poems
Christmas Chapter Books
The Best Christmas Pageant Ever
  This is one of my favorite children's novels.  Every time I read it, I laugh until I cry.
Nate the Great and the Crunchy Christmas
  Nate the Great, a detective book full of mystery solving.  A great book for boys.
The Girl Who Saved Christmas
  From the publisher:  From the bestselling author of A Boy Called Christmas comes a hilarious and heartwarming holiday tale for fans of Ronald Dahl and Charles Dickens's A Christmas Carol that imagines the story of the first child to ever receive a Christmas present.
A Boy Called Christmas
 From the publisher: Before there was Santa Claus, there was a young boy who believed in the impossible. . . . Lemony Snicket meets Elf in this warmhearted Christmas caper.
The Older Reader
A Christmas Carol (Dover Thrift Editions)
  (unabridged)  The Dickens classic.  A must read for Jr. High and High School students.  On a side note, Dover Thrift Editions are no-fuss, inexpensive, unabridged classic books.  They were my go to books when I purchased classic books while homeschooling.
The Gift of the Magi and Other Short Stories
  The Gift of the Magi is my all time favorite short story.  This Dover Thrift Edition is a 16 story anthology of some of O Henry's most classic stories.  Who knows, maybe you can inspire your reluctant reader to read short stories with these.
Skipping Christmas: A Novel
 The novel that inspired the movie Christmas with the Kranks.  This is a fun read that your reluctant reader may enjoy.
The Christmas Box Collection: The Christmas Box, Timepiece, and The Letter
  A collection of Richard Paul Evans classic Christmas novels.  Fun novels for when you need something light to read.
DVD's The Entire Family Will Enjoy
Christmas Candle
  Max Lucado  A great story perfect for the entire family
Hallmark Holiday Collection (A Very Merry Mix-Up, The Christmas Ornament, Hitched For the Holidays, Come Dance With Me)
 4 Hallmark Movie Classics for a great price
The Nativity Story
  The Christmas story comes to life
The Christmas Miracle of Jonathan Toomey
 A great story of hope
My favorite Christmas links
Great craft ideas:   http://www.hgtv.com/design/make-and-celebrate/handmade/50-christmas-crafts-for-kids-pictures  http://www.hgtv.com/design/make-and-celebrate/handmade/50-christmas-crafts-
Great printables both coloring sheets and activity pages:  https://www.education.com/worksheets/christmas/
A one stop web site for Christmas activities:  https://www.activityvillage.co.uk/christmas
Christmas science activities:  https://ethemes.missouri.edu/themes/1173
What about you?  What resources do you use to homeschool your children through Christmas?
Remember, it's not about the things we do, it's about Jesus, so keep it simple and fun.  And remember it doesn't have to be perfect!
I John 5:11
"And this is the testimony: God has given us eternal life, and this life is in his Son."